May 2005
Dell 2405FPW
Yet another example of a revolutionary product at a revolutionary price. When Dell introduced this in March of 2005, it generated a lot of excitement since it was state of the art technology at a really great price point. While other manufacturers offered similar monitors they were always priced at $1500-$1900, which is a bundle. Dell introduced the monitor with a lower response times (12ms vs. 16ms or higher), more input options, and priced it with an $1199 MSRP. No wonder people got excited. It's already forced some manufacturers to lower their prices including Apple which revised its display pricing on April 27th, 2005—something it doesn't do often. It's one of the largest high resolution flat panel monitors available at 24" (only Apple features a larger piece of glass in their monster 30" display) and has a widescreen aspect ratio that is great for putting windows side by side. It can display full resolution HDTV signals, which is great for editing or watching. To further add to its credo it features component, composite, S-Video, DVI, and VGA inputs as well as a 9 in 1 flash card reader and it can rotate into portrait mode. The monitor is well designed, well priced and produces a gorgeous, bright 1920x1200 picture. Could you ask for anything more? Read a review here.
Versa Laser
We've wanted one of these for a very long time now but it's priced slightly out of our reach. However it's just the neatest thing ever and if you gave us the money we'd have one on our desk in a heartbeat. You plug it into your computer like a normal printer and with its high powered C02 laser you etch, burn and cut various materials like wood, metal, glass and plastic. Perfect for turning our dreams (and yours) into a tangible reality. Too bad it costs eight grand, though. Read more here.
Peanut Butter & Jelly
This classic combination has been getting more play recently here at the Lunchip headquarters. Our preferred combination is crunchy peanut butter with grape jelly. The peanut butter is a high protein food that not only satisfies hungry stomachs but delivers a constant stream on energy while the jelly neatly complements it. We highly recommend a quality peanut butter with very little or no trans fat (the devil in our opinion) such as the Kroger brand or gold-standard, the grind-it-yourself variety. Either way, if you haven't already made your PB&J sandwich, what are you waiting for?
Textpattern
This is a great piece of web-publishing software (we hesitate using the word blog) from an author that knows a thing or two about how to make text look good since he was a book designer. Textpattern is easy to set up and use, has a great interface and is almost infinitely customizable that produces great looking pages. We appreciate the little details like it turning bland straight quotes ("") into smart quotes ("") automatically. Read more about it here and visit some great Textpattern-produced sites here, here, and here.



Check back for more Things We like, and send us your suggestions. We'd love to hear from you.
Can't find what you're looking for? Check our archives that contain all past TWL lists.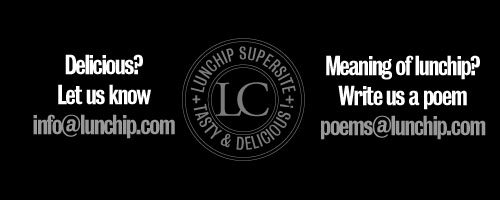 Lunchip.com was designed for resolutions of 1024x768, or higher
All images and design Copyright (C) 2002 Lunchip.coms