November 2003
Mint Fudge Covered Oreos
Mint Fudge Covered Oreos: What do you get when you take America's favorite sandwich cookie, dip into minty chocolate? Something completely irresistible. While independent confectioners have been dipping Oreos in chocolate for decades, Nabisco's official release of the chocolate smothered cookies is reason to celebrate because they're readily available whenever you get the craving. A warning though, they're really, really addictive so set your limits before planning your treat. And be sure to have a nice cold glass of milk to wash it down.
The Sony VPL-HS10/HS20
The Sony VPL-HS10/HS20- Never before has the entry into quality large screen home theater been so affordable. It used to be that only the wealthy could afford front-mounted projectors since they used to cost upwards of $20,000 for the projector alone (These were mostly CRTs, which offer a superb picture but are fairly inflexible and hard to maintain). Over the years, with the advent of cheaper and better LCD technology and the introduction of Texas Instruments remarkable DLP chips, this changed slightly, but high quality home theater projectors still hovered in the 10-20,000 dollar range. Even the launch of Sony's affordably-priced Cineza line of projectors two years ago didn't seem to make much of an impact since they were of such low quality they were seldom included in aficionado's wish lists. With the introduction of the HS-10 (last year) and the new HS20 (a slightly improved version of the HS10) they are not only affordable (MSRP $3,500 for the HS-20, MSRP $2999 for the HS10) but rival projectors costing three times as much. This projector's native 16:9 LCD panel projects amazing High Definition (at 720P) and DVD video. It's lightweight design, keystone correction, and high contrast ration (700:1) make it flexible for many rooms, and did we mention the cost? Little wonder it's had a waiting list as long as the Nile when the pioneering HS-10 first came out. HS-10 Review.
Verbatim Digital Vinyl CDRS
These have been espoused as cool by many people and for good reason. They're simply fabulous for containing a personal greatest hits collection with some class. If you haven't seen them they 're regular CDRs with look and feel of a vinyl record—right down to the ridges! No more hand lettered CDRs or paper labels that peel off and simply don't do justice to your best CD mixes. The downside? They're expensive. Just over a dollar each at most places (There are deals to be had on the net, though for about half that). But since these are going to be used for the stuff you truly revere (and hopefully keep for awhile), we think its well worth it. Verbatim Digital Vinyl
Zero Blaster
Okay, we've first saw this featured in Wired, and then other magazines but we didn't truly think it was cool till we got our hands on one. You may be saying "big whoop, it blows fog rings" but this little toy is really fun. It's cheap (at around $20) and enjoyable. And the cherry scented fog smells wonderful. Check here for a review.



Check back for more Things We like, and send us your suggestions. We'd love to hear from you.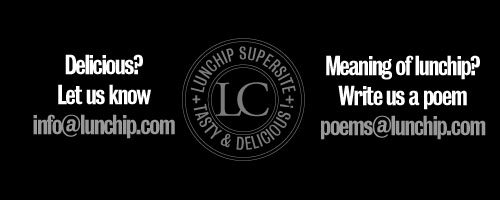 Lunchip.com was designed for resolutions of 1024x768, or higher
All images and design Copyright (C) 2002 Lunchip.coms