April 2004
Reese's Puffs Cereal
We like Reeseís Peanut Butter Cups fine, but when we tasted Reeceís Puffís cereal, it was love at first bowl. The puff itself is crunchy, and doesnít get soggy right away. The taste hints of peanut butter and chocolate but in a lighter, almost dreamlike way. We were such big fans, itís all we ate around here for months. Even if youíre not a peanut butter fan, you may want to give this a try. Our advice: itís better as a snack than a breakfast food. Get your fiber and nutrition in the morning with a more wholesome cereal. Available at your local supermarket.
The Nikon D70 Digital SLR
The minute the box landed at headquarters, the staff was all in a tizzy about the new camera. We tracked it anxiously all across the county until it landed in our warm hands. We are not alone. Photo enthusiasts all over the country in March 2004, were salivating at the prospect of the D70. At the time of this writing, in (mid March) many companies are already dealing with a backlog of orders on these cameras and must wait until factory can keep up with demand. What makes this particular camera so special? Digital SLR (single lens reflex) cameras used to cost an arm and leg (up to $25,000 just a few years ago) and with the introduction of the D70, Nikon has answered Canonís pioneering call to make a quality digital SLR affordable.
Before this, most Digital SLRs were used by professional photographers and cost $1500 and up for the body alone; lenses would set you back another $350 or more. Canonís introduction of the 300D Digital Rebel in fall of 2003 made quick fans of consumers and pros alike by introducing a camera and interchangeable lens setup for under $1000, and itís popularity along with Canonís other high end cameras gave them a supposed 60% of the Digital SLR market. Nikon, however, did Canon one better by producing a slightly higher quality camera for around the same price.
The camera is in many ways an improvement over the more expensive D100, Nikonís least expensive DSLR. One thing weíll miss from the D100 is the lack of a vertical grip, which is currently unavailable for the D70, but better technology and faster shooting speeds make up for the loss. The camera features a 6.1 Megapixel CCD, a robust body, an integrated flash, and its best feature, interchangability with Nikonís impressive range of SLR lenses. Nikon has created a new lens for the camera, the 18-70mm AFS G Lens, and priced it affordably when bundled with the body. The big advantage of SLRs (film or digital) over consumer point and shoot cameras is the ability to tweak almost everything (more user control), the ability to see exactly what youíre shooting by looking through the lens rather than an unconnected viewfinder, and the speed of shooting, which is without a noticeable shutter lag.
The biggest investment factor in SLR cameras are the lenses. When new technology arrives down the road, simply change the body, keep the collection of lenses. Weíve written a lot on this (more than any other TWL feature) because itís a revolutionary time to be a photography enthusiast. Weíve always been a fan of revolutionary products that break new ground by pricing high quality technology affordably for the first time. (See our Things We Like article on the Sony HS10/20). If you can get your hands on one, join the revolution.
The Sanford Papermate PHD Multi
This pen inspires our best work. It has an ergonomic rubberized fat grip which is easy on the hands when you write a lot. The version we prefer comes with a stylus, a .5mm mechanical pencil, and a PDA stylus all in one pen. Also available is a version with the stylus and two ink colors (red and black) rather than a pencil. Switching between the tools is easy and uncomplicated and one saves time, when switching between writing and accessing information on the PDA, by not having to carefully slide the uncomfortably thin stylus provided with most PDAs back into the tiny holster. Almost everything consumable is replaceable (and may we add, readily available at most office supply stores), which is great for your pocketbook and the environment. Definitely a worthy addition to your pocket, and a much better value than that OMAS Galileo pen sitting in your closet. About $8 at most office supply stores.
Textamerica.com
This site is waaaay cool. If you have camera phone, all you need to do is sign up for a free account, and you can immediately upload your pictures to your own personal web photo gallery the minute after you snap them. You literally snap and send. The publishing is done automatically. Later you can edit the titles, customize the look and keep track of whoís seen your page. A very cool idea by a very cool company. Letís hope it stays that way. Check out some moblogs at textamerica.com



Check back for more Things We like, and send us your suggestions. We'd love to hear from you.
Can't find what you're looking for? Check our archives that contain all past TWL lists.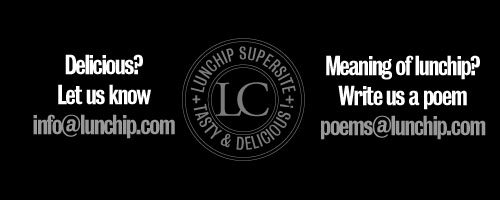 Lunchip.com was designed for resolutions of 1024x768, or higher
All images and design Copyright (C) 2002 Lunchip.coms