Summer 2004
Tiny Boxes of Milkduds
Milk Duds have been a movie staple for decades. We like them because they're hard and chewy, and deliver a satisfying caramel burst. We like them because they're the perfect size. We like them because they're the perfect sweet complement to some salty popcorn. Try putting some popcorn and milkduds in your mouth at the same time for a uniquely satisfying experience. The tiny boxes are great becuase they contol the experience–it is possible to milkdud yourself into a stupor. So rent a movie, get your milkduds and some popcorn, and let the stresses of the day slip off you.
Rancilio Silvia Espresso Machine
Okay, if you're tired of those sappy, burnt espressos from Starbucks made by teenage barista's who just don't care, you're tired of paying a small fortune for your lattes, and ready to learn an art you can drink, your ship has come in. The Rancilio Sylvia is hands down the best value in a home espresso machine you can buy under $600. If you're balking at the price, try calculating what an avid coffee drinker spends at starbucks in a year. This machine will pay for itself with regular use. Imported from Italy, Rancilio manufacuturers the machines seen at many professional coffee shops around the world. Miss Silvia (as she's properly called) is a favorite among coffee aficionados and serious beginners alike. It's a semi automatic machine, meaning that in order to use it properly, you're going to have to learn a bit more about coffee and the fine art of it's preparation. Combined with a decent grinder like the Rocky, and an eager attitude, you'll be pulling shots that are heaven in a cup. With steam to spare, a nice big boiler, and commercial size portafilter, you'll have the infrastructure to build espressos, mochas, and cappchino that are so good, literally only your talent (and your beans) will limit you. Throw away that cheap steam powered machine from the department store, and taste what espresso should taste like.
Read reviews here
Bicycle Rider Back Playing Cards
An American classic so American they're made by the US Playing Card company. Nothing needs to be said about these cards. They come with an "air cushion" linen finish, which makes them plenty durable and rather attractive up close. The rider back is beautifully intricate to behold in red or blue, and they're pretty much the only cards found in the hands of kitchen table poker players all across the country. They're preferred by professional magicians, too, and for good reason--with their linen finish they feel fantastic. Run out and pick up a fresh deck now, rifle through them and smell the nostalgia. Then maybe invite your buddies over for a few games and create some new memories.
Read a bit more about them here
Phatnoise Phatbox
For those who don't know, the Phatbox is a cartridge-based server that fits in your trunk in place of a CD player. It interfaces with many car manufacturer's factory headunits (which is perhaps its best feature) and you can carry around your entire collection of music without the fuss of changing CDs. Unlike an Ipod, or similar portable device, you don't have to worry about interfacing it with your car speakers since it does so directly with the highest quality sound. Another great feature is that you can browse by album, artist, genre or create your own playlists and mix albums effortlessly and in some cars, without ever taking your eyes off the road. We like to leave it on random and a listen to a different mix each time. Cartridges are available from 20GB all the way to 60GB. The software is very intelligent too. It actually talks to you and reads playlist and other data. It's expensive, but with all the functionality, it's worth every penny.
Check out the Phatnoise Website here



Check back for more Things We like, and send us your suggestions. We'd love to hear from you.
Can't find what you're looking for? Check our archives that contain all past TWL lists.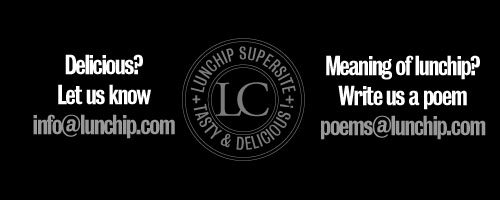 Lunchip.com was designed for resolutions of 1024x768, or higher
All images and design Copyright (C) 2002 Lunchip.coms